Porsche 911 gt3 rs titanium exhaust system
---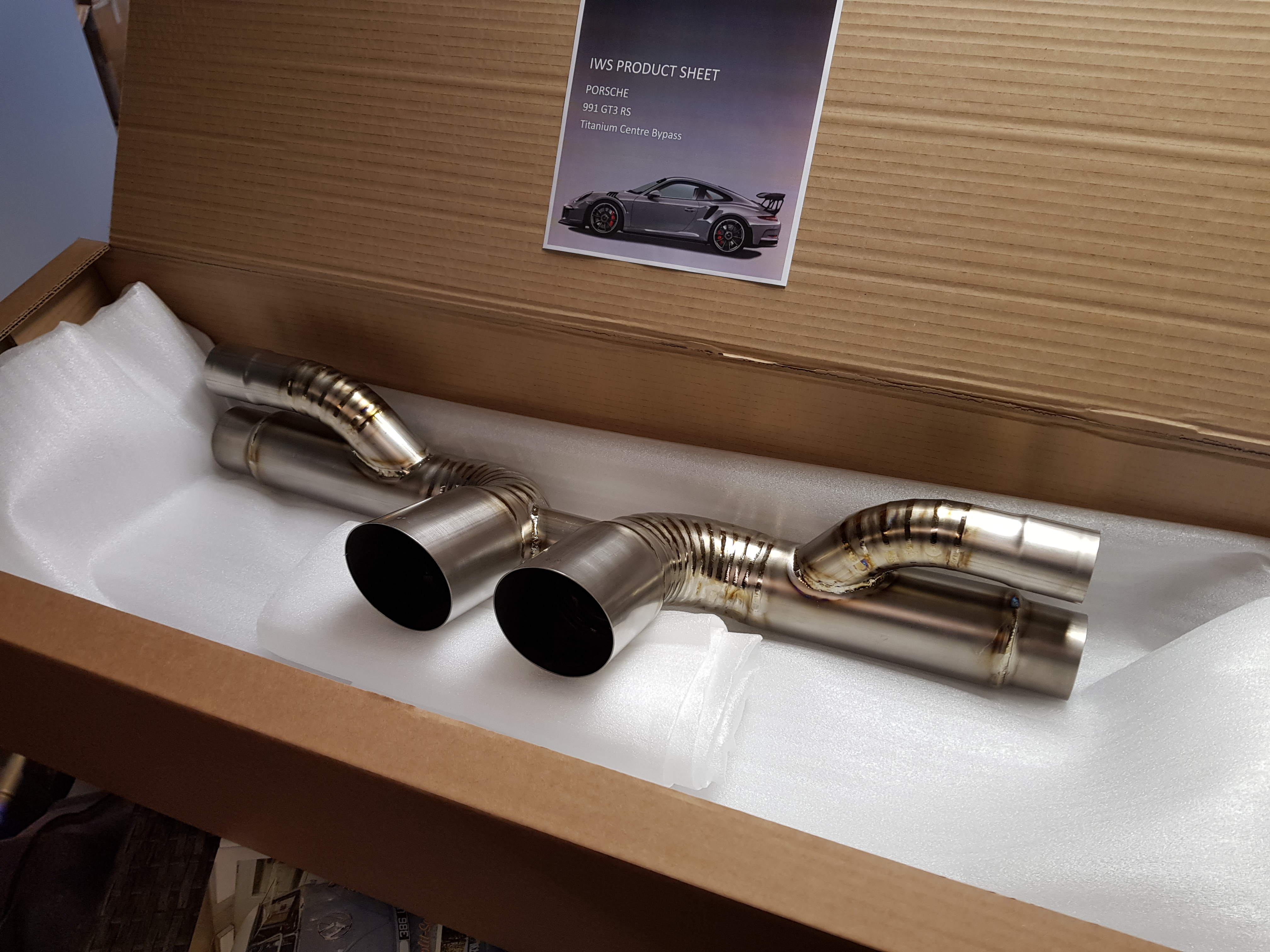 New product!
GAD Tuning is excited to announce a working partnership with IWS Developments to bring a full suite of aftermarket performance exhaust products for the Porsche 911, 991.1 and 991.2. As with all OEM exhaust systems, Porsche have had to compromise the design and characteristics, specifically performance and sound, in order to comply with the stringent regulations imposed upon vehicle manufactures. The good news is, we do not!
Our first product to be released will be the IWS Titanium Rear Silencer Bypass, available in both an X and H Pipe arrangement.
The IWS Titanium Rear Silencer Bypass has been designed to improve the aspects that Porsche had to compromise. Our focus when working with IWS, was to optimise the Performance of the vehicle and the Sound characteristics for road and track use.
Our products are only offered in Motorsport Grade 2 Titanium. Titanium provides a lightweight exhaust system with far superior strength when operating at high temperatures, both key requirements when looking to optimise the performance of Porsche's beautiful 3.8 and 4.0 litre flat 6.
Fabricating in full Titanium also provides for an improved sound quality, not just louder, but that all important tone. When on full throttle and the hot exhaust gases are freely flowing through the system, Titanium's natural resonance provides a sound familiar to any motorsport enthusiast.
IWS Desvelopment
With IWS Developments experience in the motorsport industry, and membership of the Guild of Master Craftsmen, the quality of the products soon to be released is unparalleled. All products have been designed using Solid Works (a CAD package with flow dynamics integration), fabricated fully in house, ultrasonically cleaned before TIG welded with full argon back-purge. Customers are welcome to visit the IWS workshop and see the quality in person.
Behind the scenes, we're developing Inconel Race Manifolds with decat/sports cat, Titanium Side Silencers, Titanium Side Silencer Bypass and a range of Tip products. Our products will be interchangeable with the OEM system, allowing the customer to create a system that best matches their requirements.
We're putting the finishing touches to our marketing literature and expect to bring you a full suite of documents with information on weight saving, bhp/torque increases and fitting instructions shortly.
---
Endorsements from top motorsport professionals
We have Full endorsements from top motorsport professional drivers including Andy Meyrick – GT3/GT4 Director of the BRDC, Seb Morris – GT3 Bentley factory driver, Josh webster – Porsche Supercup and PorschecupGB contender and Tio Elinas – 2018 PorschecupGB champion.
Key Points
Exotic motorsport grade 2 Titanium offers the best in weight saving, product quality and tolerance for high temperatures
Waterjet flanges all drawn to fit with OEM tips for a truly modular system
Full CAD designing
Prototype testing and fitting
Designed by engineers
Reduction in back pressure
Improved Tone
Improved Performance
Weight Reduction
Fully back purged
Full testing and validation by GAD Tuning LTD in house with industry standard logging equipment and chassis rolling road
---
Compatible with:
991.1 GT3, R, RS
991.2 GT3, RS, Touring
---
Pricing
Titanium H-Pipe system £1200 inc VAT

Titanium X-Pipe system £1800 inc VAT

Titanium Pie Cut system £3000 inc VAT
Request a Call Back
---
Find Us
---
Get Directions...