Quicksilver Exhaust Systems
---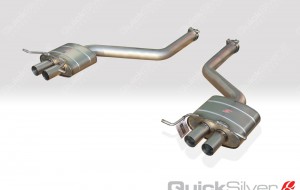 Here at GAD Tuning we can offer the full range of Quicksilver exhaust systems for all the major high performance marques. This includes Quicksilver systems for Aston Martin, Bentley, BMW, Ferrari, Maserati and Lamborghini just to name a few. Built from the highest quality materials in Great Britain means you have peace of mind for the quality and outstanding craftsmanship.
QuickSilver's range breaks down into two main categories:
Sports: The most popular range of systems catering for modern cars enhancing their sound and overall performance. QuickSilver offer a choice of sound for many vehicle models to allow the enthusiast driver to personalise the experience.
Titan Collection: A bespoke service where QuickSilver strive to engineer the ultimate Exhaust systems. The exhausts included within the 'Titan Collection' are systems that have all the advantages of the 'Sports' range but QuickSilver have examined ways to reduce weight to a minimum by using alternative materials such as thin gauge stainless steel (.9mm), Titanium or Inconel in .7 or .9mm thickness. Some systems combine these materials to achieve the correct balance of strength, lightness and durability.
Above is a still image of the Titanium exhaust system the Quicksilver offers for the Bentley V8, coupled with our tuning software and performance air filters can see improvements of over 180bhp and 240nm of torque over stock management. This is partly due to the massive limiters placed on the Bentley V8's engine management system.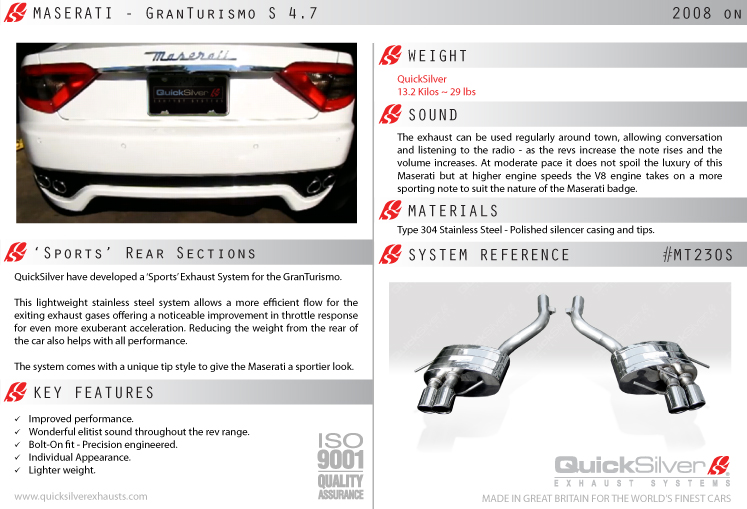 One thing that very much surprised us here at GAD tuning was the Maserati GranTurismo S 4.7 V8 as we pretty much thought the vehicle as standard sounded incredible! That being said the guys at Quicksilver exhausts got to work and they cracked it! The sound track coming from the 4.7 S V8 Granturismo is sensational!!! With the added benefit of freer flowing exhaust, lower EGT's and also a 13kg weight saving, what's not to love.