Rolling Road in Essex From GAD Tuning
---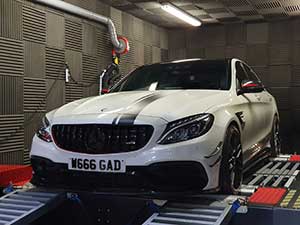 Here at GAD Tuning Ltd we have our very own state of the art 4WD 2400bhp capable Rolling road Sync Link system setup to accommodate all drive train variations including FWD, RWD, 4WD and AWD with complicated power delivery systems. The system we use is the British designed and built Dyno Developments Precision 4WD Sync Link system which has a very advanced load control system using twin Eddy brakes which allow us to use an Intelligent Adaptive load control and will hold load perfectly every time.
The difference when choosing a company for mapping is that basically if they have an Inertia dyno they are not mappers as you cannot use it to control different states and RPMs under load for fine tuning and mapping, inertia dyno's are simply used for power runs!
This gives us the power to not only test very low to high horse power vehicles but also a whole host of motor sport applications as we have full control of the vehicle in real time at any RPM point the team wants to check. Giving the customer or race team the confidence in there AMG road car, 488 Challenge Race car all the way to Bentley AWD Systems.
Mercedes | AMG GTR OPF model.... Stage 2!!!
---
Mercedes AMG GTR on our rolling road for our Stage 2 ecu tuning and performance package. OEM - 577bhp and 750nm Real - 574bhp and 836nm 📉 Stage 2 - 681bhp and 949nm 📈
Key Features Of Our Rolling Road System:
---
Sync Link 4WD Dyno
Sync Link can accomodate the latest AWD power delivery systems
X-Drive, 4MAtic, Quattro, Haldex Etc.
Twin Retarder up to 2400 Horsepower at the wheels
Test Cars, Go Karts, Quad Bikes and Motorcycles
Measure HP, Torque Time, Tractive effort rpm etc
Measure AFR / Lambda
Automatic weather station Air Temperature Correction
Measure vacuum / Boost
Thermocouple / EGT channels
Built in Knock detection
Measure RPM direct from engine / Roller speed
Ramp Mode for Power Graphing
Steady State mode for fine engine tuning
CAN Bus interface
Triple fan setup
Side intake fan assembly
Maximum 2.0 Metre Height
A Professional 2wd/4wd Dyno Cell
---
Our Dyno cell at our HQ in Essex was completely designed from the ground up to be repeatable, control temperatures, control noise (for the neighbours) and to have an environment in which our results are realistic and repeatable. You wont find our Dyno stuffed in a workshop which is also an MOT garage or in a room which doesn't monitor anything but looks glossy. Ours is a tool for giving you the best and safest results!
T

he Science of Rolling Road Car Tuning

Rolling road car tuning, also known as chassis dynamometer tuning, is a cutting-edge method to optimise a vehicle's performance, ensuring it operates at its peak efficiency. This technique involves placing a vehicle on a specialised rolling road, which simulates real-world driving conditions while measuring various performance metrics. The data collected includes engine power, torque, air-fuel ratios, and exhaust emissions, among others. By analyzing this data, expert tuners can fine-tune a car's engine management system, exhaust system, and other components to unlock hidden potential and enhance its overall performance. Rolling road car tuning is a popular choice for enthusiasts and professionals seeking to maximize power output, improve fuel efficiency, and achieve a more enjoyable driving experience.
E

co-Conscious Benefits of Rolling Road Tuning

In addition to its performance benefits, rolling road car tuning is gaining popularity for its eco-friendly advantages. By optimising engine parameters, tuners can reduce harmful emissions, making vehicles more environmentally responsible. This eco-conscious approach aligns with the global push for cleaner transportation options and contributes to reducing a car's carbon footprint. Furthermore, rolling road tuning allows for precise adjustments, ensuring that the engine operates within optimal parameters, thereby extending its lifespan and reducing the need for costly repairs. Overall, rolling road car tuning offers a win-win solution for both performance enthusiasts and the environment, making it a compelling choice for those looking to boost their vehicle's performance while staying in tune with eco-friendly principles.