W

ait in comfort
---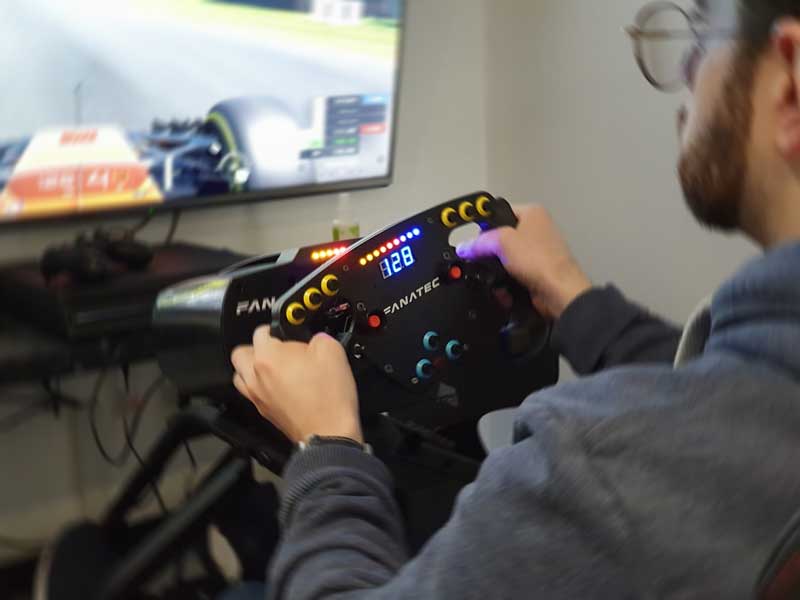 Here at GAD Tuning the customer is paramount! So when we initially planned our workshop refurbishment the first thing we did before we even started construction of our dyno cell was to increase the size of the waiting room.
We not only improved the size we also added more seating, larger kitchen, improved complimentary refreshments, opened up for more natural light, 458 Challenge wheel table, V8 Coffee table, Large 50" 4k HDR TV, Netflix, PS5 with PlayStation VR and Fanatec CSL Elite all to accommodate the customers needs.
We run a monthly competition for fastest lap times at Brands Hatch in the 911 RSR!
Our customers often watch movies, TV shows and play Gran Turismo Sport in Virtual reality all while watching over the workshop as we work on there pride and joy.
They have access free of charge to beers, wine, soft drinks like Pepsi, Dr Pepper, sweets, chocolate and crisps.
This brief was very important to us as a large percentage of our customers come from literally all over the country and very often other countries.
We regularly have customers from Cornwall, Wales, Birmingham, Manchester, Leeds, Scotland and even Denmark, Monaco and Switzerland just to name a few so making it comfortable was key.
C

ustomer Satisfaction

At GAD Tuning, our commitment to customer satisfaction is at the forefront of everything we do. When we embarked on the journey of refurbishing our workshop, our top priority was to enhance the customer experience, starting with the expansion of our waiting room.

We didn't just increase the size; we thoughtfully designed a space that caters to our customers' every need. The upgraded waiting room boasts more seating, a kitchen, improved complimentary refreshments, and a design that welcomes natural light. Our waiting room is not just a place to pass the time; it's an experience in itself. You'll find unique features like a 458 Challenge wheel table, a V8 Coffee table, a large 50" 4k HDR TV equipped with Netflix, a PS5 complete with PlayStation VR, and a Fanatec CSL Elite setup—all provided for your enjoyment while we work on your pride and joy.

Our customers frequently indulge in a movie while waiting, binge-watching TV shows, and immersing themselves in Gran Turismo Sport in virtual reality—all while overseeing our skilled technicians at work in the workshop. And to sweeten the experience, we offer complimentary access to a selection of beverages. We've got your snack cravings covered too, with a tempting array of sweets, chocolates, and crisps—all available at no extra cost.

We understand that our clientele comes from all corners of the country and beyond, with customers regularly traveling from places like London, Cornwall, Wales, Birmingham, Manchester, Leeds, Scotland, and even internationally from destinations like Denmark, Monaco, and Switzerland. Making your visit comfortable and enjoyable is not just a priority; it's our pleasure. At GAD Tuning, we've taken every step to ensure that your time with us is as exceptional as the tuning services we provide for your vehicle. Your satisfaction drives us, and our upgraded waiting room is a testament to that commitment. Come and experience the GAD difference for yourself. Your journey to optimized performance begins with comfort and hospitality.